Santa Rosa Commercial Plumbing Services
At Rooter Man Sonoma County, we recognize the unique needs and demands of commercial plumbing. Unlike residential systems, commercial plumbing often involves more complex systems, higher usage rates, and strict code compliance requirements. That's why we offer comprehensive services to address the specific needs of businesses in Santa Rosa, Petaluma, Windsor, and the surrounding areas.
Whether you need routine maintenance, emergency repairs, or a new plumbing system installed, our certified plumbers have the knowledge and experience to do the job correctly. We recognize that downtime due to plumbing issues can harm your business operations and bottom line, so we strive to provide prompt, efficient, and dependable service every time.
Our commitment to quality and customer service has made us the preferred provider of commercial plumbing services in Sonoma County. We take pride in building long-term relationships with our clients and becoming trusted partners for their plumbing needs.
Contact us online or at (707) 659-0936 to book a free estimate.
Our Commercial Plumbing Services
At Rooter Man Sonoma County, we offer a comprehensive range of commercial plumbing services, ensuring we can handle any issue in your establishment. These services include:
Leak Detection and Repair. Water leaks can cause significant damage to your property and increase your water bills. We use advanced tools and techniques to detect and repair leaks quickly and efficiently, preventing costly water damage and waste.
Drain Cleaning. Drains can become clogged due to a variety of reasons, including grease, food debris, hair, and more. We can remove all blockages, ensuring your drains are free-flowing and functioning properly.
Plumbing System Installation. Whether constructing a new facility or renovating an existing one, we can design and install a plumbing system that suits your needs and complies with local codes.
Plumbing Repairs. From minor repairs to major overhauls, our team can handle all plumbing issues, restoring the efficiency and reliability of your system.
Preventive Maintenance. Regular maintenance can help prevent major plumbing issues before they occur. We offer routine maintenance services to keep your plumbing system in top condition, preventing costly breakdowns and extending the lifespan of your equipment.
Water Heater Services. Hot water is vital for many businesses. We offer comprehensive water heater services, including installation, repair, and maintenance, ensuring you always have a reliable source of hot water.
Backflow Prevention. Backflow can contaminate your water supply, posing a health risk to your employees and customers. We offer backflow prevention services to keep your water safe and clean.
Next Day Plumbing Services. Plumbing emergencies may arise at any time and cause significant disruption to your business. We offer Next Day services, ensuring a certified plumber is always available when you need them most.
Your Trusted Commercial Plumbing Partner
At Rooter Man Sonoma County, we acknowledge that you have a choice regarding commercial plumbing services. Here's why businesses in Santa Rosa, Petaluma, Windsor, and the surrounding areas choose us:
Expertise. Our team of certified and experienced plumbers are knowledgeable in all aspects of commercial plumbing. We stay updated on the latest technologies and techniques to provide the best service possible.
Customized Solutions. Every business is unique, so we tailor our services to meet your needs. We'll take the time to understand your operation and offer solutions that align with your goals.
Quality. We use only the highest quality materials and equipment, ensuring durable and long-lasting solutions.
Fast and Efficient Service. We value your time and understand that plumbing issues can disrupt your business. That's why we work to provide fast and efficient services, getting your operations back to normal as soon as possible.
Excellent Customer Service. We are committed to providing excellent customer service. We listen to your needs, answer your questions, and keep you informed every step of the way.
If you need commercial plumbing services in Santa Rosa, Petaluma, Windsor, or the surrounding areas, don't hesitate to contact Rooter Man Sonoma County. Call (707) 659-0936 or contact us online to schedule a free estimate. Let us help you ensure the efficiency and reliability of your plumbing system!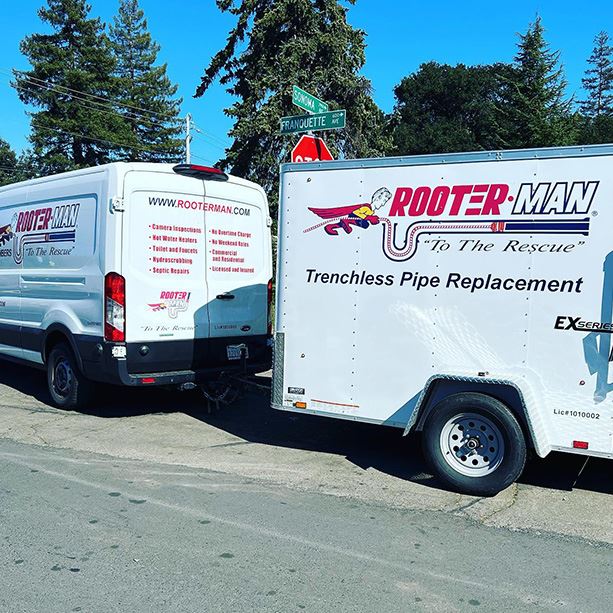 Hear From Our Happy Customers
"They show up on time, are professional, and they do the job right. This is my go-to plumbing company."

- Barbara G.

"Highly recommend this family-owned and operated company."

- Eli L.

"Very friendly & reasonable compared to similar experiences with plumbers on Peninsula."

- Susan B.
Why Choose Rooter Man Sonoma County?
What Makes Us Different
Local & Family-Owned

We make ourselves availabe so you'll always get a live person when you give us a call.

Full Service Plumber

We come equipped with fully stocked trucks, materials, and tools needed to get the job done right.

Offering 100% Free Quotes

Talk to our plumbing team today during a free estimate.

Next Day Services Available

Call after hours to get scheduled for the next day!

100% Satisfaction Guarantee

We never leave you unhappy! We guarantee it.