Santa Rosa Drain Cleaning Services
Clogged or slow drains are more than just a nuisance; if left unattended, they can cause significant damage. It's essential to take prompt action to clear the obstruction and maintain the health of your plumbing system.
At Rooter Man Sonoma County, we provide comprehensive drain cleaning services in Santa Rosa, Petaluma, Windsor, and the surrounding areas. With decades of experience in the plumbing industry, we have the expertise and knowledge to tackle any drain issue, ensuring a smooth flow and extending the lifespan of your pipes.
Don't let a clogged drain slow you down. Call (707) 659-0936 or contact us online to schedule a service visit.
Why Is Regular Drain Cleaning Important?
Regular drain cleaning is essential to maintain your plumbing system's health and prevent clogs and slow drains. Over time, your drains can accumulate debris, grease, hair, and other materials, leading to blockages that can disrupt your daily routine and potentially cause severe damage to your pipes.
Some benefits of regular drain cleaning include:
Enhanced drain performance. Regular cleaning ensures that your drains are functioning at their best, reducing the chances of clogs and blockages.
Prevent plumbing issues. Routine drain cleaning can help prevent more significant issues, saving you time, hassle, and money in the long run.
Improved health and safety. A clean drain reduces the risk of bacteria and mold growth, creating a healthier home environment.
Longer lifespan for your pipes. Regular maintenance, including drain cleaning, can extend the life of your plumbing system.
Prevent odors. Over time, organic matter trapped in your drains can decompose, leading to unpleasant odors. Regular drain cleaning eliminates these odors, leaving your home smelling fresh and clean.
Maintain efficiency. Clean drains ensure a smooth water flow, preventing slow drainage and backups. This allows your plumbing fixtures to function efficiently, saving time and hassle.
Our Drain Cleaning Services
We provide various drain cleaning services tailored to your needs at Rooter Man Sonoma County. Our experienced technicians use the latest equipment and techniques to ensure the best possible results.
Our services include:
Drain snaking. This traditional method is effective for smaller blockages. Using specialized tools, we can remove clogs from your drains. Drain snaking is particularly effective for minor to moderate obstructions.
Hydro jetting. This process uses high-pressure water to clear stubborn blockages and clean the interior of your pipes. We thoroughly clean the interior walls of your drains, restoring optimal flow.
Camera inspections. Our team can use advanced technology to inspect your drains and identify any issues. This non-invasive method allows us to pinpoint problem areas and recommend appropriate solutions.
Emergency drain cleaning. We're available for emergency services when you need urgent assistance.
Reliable & Customized Drain Cleaning Solutions
At Rooter Man Sonoma County, we're committed to providing top-notch drain cleaning services to our customers in Santa Rosa, Petaluma, Windsor, and the surrounding areas. Our team of experienced professionals is dedicated to ensuring your complete satisfaction with every service.
We understand that every drain issue is unique, so we tailor our services to your needs. With our commitment to excellence, you can trust us to get the job done right the first time.
Don't let a clogged drain disrupt your day. Call us at (707) 659-0936 or contact us online to schedule a service visit. Get a free estimate today!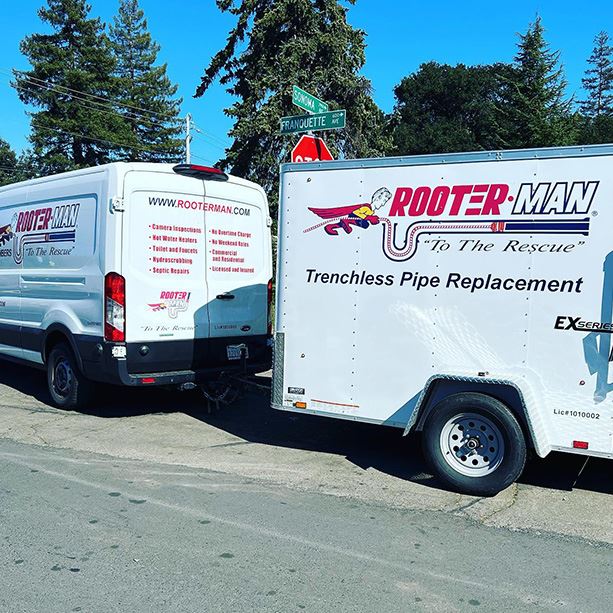 Hear From Our Happy Customers
"They show up on time, are professional, and they do the job right. This is my go-to plumbing company."

- Barbara G.

"Highly recommend this family-owned and operated company."

- Eli L.

"Very friendly & reasonable compared to similar experiences with plumbers on Peninsula."

- Susan B.
Why Choose Rooter Man Sonoma County?
What Makes Us Different
Local & Family-Owned

We make ourselves availabe so you'll always get a live person when you give us a call.

Full Service Plumber

We come equipped with fully stocked trucks, materials, and tools needed to get the job done right.

Offering 100% Free Quotes

Talk to our plumbing team today during a free estimate.

Next Day Services Available

Call after hours to get scheduled for the next day!

100% Satisfaction Guarantee

We never leave you unhappy! We guarantee it.