Santa Rosa Camera Inspections
The plumbing system in your home or business is a complex network of pipes, many hidden behind walls or buried underground. This makes it difficult to accurately diagnose issues when they arise. At Rooter Man Sonoma County, we utilize advanced plumbing camera inspection technology to quickly and accurately identify problems within your pipes, saving you time and money.
Our team of certified technicians has extensive training in using state-of-the-art camera inspection equipment. This allows us to inspect the full length of your plumbing system, identifying any potential issues like leaks, blockages, or damage. With our detailed inspections, we can provide comprehensive solutions tailored to your specific needs.
Don't leave your plumbing issues to chance. Let our Rooter Man Sonoma County team provide the accurate diagnosis you need. Call (707) 659-0936 or contact us online to schedule your camera inspections in Santa Rosa.
What Is a Camera Inspection?
A camera inspection is a non-destructive method of assessing the condition of your plumbing system. This process involves inserting a small, high-resolution camera attached to a flexible rod into your pipes. As the camera moves through the pipes, it transmits real-time video feedback to our technicians, who can identify any issues within your plumbing system.
During a plumbing camera inspection, our technicians will:
Check for leaks, cracks, or other damage within your pipes.
Identify blockages or obstructions that could be affecting your plumbing system's performance.
Inspect your pipes for wear and tear signs, helping you anticipate potential future issues.
Provide a comprehensive report detailing the condition of your pipes, allowing you to make informed decisions about necessary repairs or replacements.
Why Opt for Camera Inspection Services?
Traditional methods of plumbing inspection often involve intrusive techniques that can disrupt your routine and potentially damage your property. With camera inspection services, we can effectively bypass these issues by visualizing your pipes' interior with minimal disruption.
The key indicators that your plumbing system might benefit from a camera inspection include:
Recurrent drain clogs or slow draining
Unusual noises from your plumbing system
Foul odors from your drains
Frequent backups in your sinks or toilets
A recent shift in soil or construction work in the area
What Sets Rooter Man Sonoma County Apart?
At Rooter Man Sonoma County, we pride ourselves on providing superior camera inspection services to Santa Rosa, Petaluma, Windsor, and the surrounding areas. Our commitment to excellence is reflected in our use of advanced technology, our team's extensive training, and our dedication to customer satisfaction.
When you choose us for your camera inspections, you can expect:
Certified Technicians. Our team comprises certified technicians who have undergone rigorous training to ensure they can effectively utilize our camera inspection equipment.
Comprehensive Reports. We provide detailed reports of your plumbing system's condition, giving you the information you need to make informed decisions.
Efficient Service. We understand your time is valuable, so we strive to complete our inspections quickly and efficiently.
Customer-Centric Approach. Your satisfaction is our top priority. From scheduling your appointment to completing the inspection, we go above and beyond to ensure you have a positive experience.
Secure Your Plumbing with Rooter Man Sonoma County's Camera Inspections
Don't let hidden plumbing issues compromise the integrity of your home or business. With Rooter Man Sonoma County's plumbing camera inspections, you can understand your plumbing system's condition, ensuring it continues to function efficiently for years to come.
Contact us at (707) 659-0936 to schedule your camera inspection service. Let Rooter Man Sonoma County provide a clear view of your plumbing system's health, ensuring its longevity and peace of mind. Start your journey towards a problem-free plumbing system today.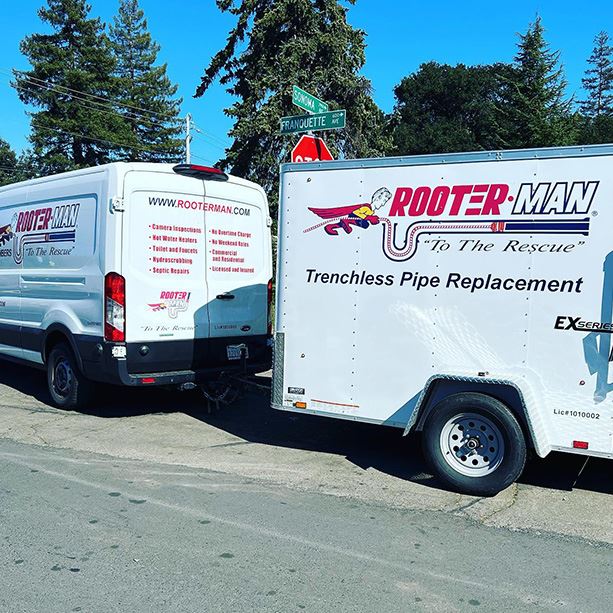 Hear From Our Happy Customers
"They show up on time, are professional, and they do the job right. This is my go-to plumbing company."

- Barbara G.

"Highly recommend this family-owned and operated company."

- Eli L.

"Very friendly & reasonable compared to similar experiences with plumbers on Peninsula."

- Susan B.
Why Choose Rooter Man Sonoma County?
What Makes Us Different
Local & Family-Owned

We make ourselves availabe so you'll always get a live person when you give us a call.

Full Service Plumber

We come equipped with fully stocked trucks, materials, and tools needed to get the job done right.

Offering 100% Free Quotes

Talk to our plumbing team today during a free estimate.

Next Day Services Available

Call after hours to get scheduled for the next day!

100% Satisfaction Guarantee

We never leave you unhappy! We guarantee it.