Santa Rosa Drain Repiping Services
A robust and functional plumbing system is crucial for every property. However, your drainpipes can corrode, decay, or get damaged over time due to multiple factors. A compromised drainage system can cause significant inconveniences and even property damage if not addressed promptly, whether due to age, root infiltration, or other issues.
At Rooter Man Sonoma County, we understand the challenges of drainpipe issues. Our team of experienced plumbers in Santa Rosa, Petaluma, Windsor, and surrounding areas offer comprehensive drain repiping services to ensure your plumbing system performs optimally.
We are only a phone call away! Dial (707) 659-0936 or contact us onlineto schedule a free estimate.
What Is Drain Repiping & Why Might You Need It?
Drain repiping involves replacing existing, faulty drainpipes with new ones. This process becomes necessary when the current drainage system becomes too worn out or damaged to function properly.
At Rooter Man Sonoma County, we recommend drain repiping when we observe:
Extensive corrosion or rusting
Frequent drain clogs and slow-draining sinks or tubs
Unpleasant odors emanating from drains
Water discoloration or the presence of sediments in the water
Frequent leaks and water damage
Each of these signs can indicate serious underlying issues with your drainpipes. If left unaddressed, these can lead to major property damage and costly repairs. Trust our team to assess the state of your drains and, if necessary, provide top-quality repiping services.
Benefits of Drain Repiping
Undertaking a drain repiping project with Rooter Man Sonoma County can bring several advantages, including:
Improved water pressure and flow
Elimination of recurring clogs and slow drains
Increased lifespan of your plumbing system
Enhanced quality of water
Prevention of property damage and costly future repairs
Our team of plumbing experts is committed to delivering high-quality services that provide long-lasting solutions to our clients' plumbing issues.
When Should You Call Rooter Man Sonoma County for Drain Repiping?
Drain repiping is a significant investment in your property, and it's important to know when to make that investment. Look out for these common signs that you might need our drain repiping services:
Recurrent leaks in your plumbing system
Frequent need for drain repairs
Noticeable decrease in water pressure
Changes in the color, smell, or taste of your water
Frequent clogging of sinks, showers, and toilets
If you're experiencing any of these issues, it may be time to consider drain repiping. Our team at Rooter Man Sonoma County can help you assess whether repiping is the right solution for you.
Worry-Free Drain Repiping with Rooter Man Sonoma County
We understand that drain repiping can seem daunting and potentially expensive. To alleviate your concerns, Rooter Man Sonoma County offers flexible financing options. Our team will work closely with you, guiding the process so you can address your plumbing concerns without the added stress of immediate payment.
Our drain repiping services stand out for a few key reasons:
Expert Technicians. Our team of experienced, certified technicians understand the intricacies of drain repiping. They use the latest tools and techniques to ensure the job is done right the first time.
Next Day Availability. Plumbing emergencies don't abide by regular business hours. Our team can provide the support you need when you need it.
Quality Materials. Rooter Man Sonoma County only uses high-quality, durable materials for our drain repiping services. This ensures your new pipes will last for years to come.
Customer Satisfaction. Your satisfaction is our top priority. We're not happy until you're happy with our services. We're committed to providing the highest level of customer service and ensuring you're satisfied with the results.
Contact us today to schedule a free estimate. Dial (707) 659-0936 or complete our online form to get started. Trust us to keep your plumbing system running smoothly.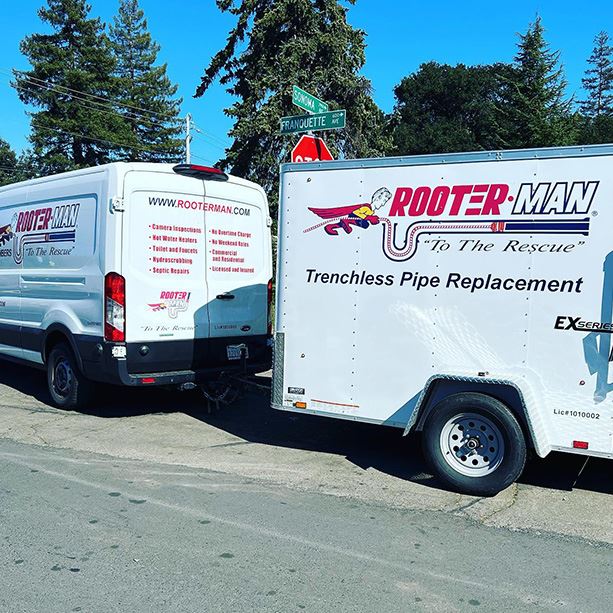 Hear From Our Happy Customers
"They show up on time, are professional, and they do the job right. This is my go-to plumbing company."

- Barbara G.

"Highly recommend this family-owned and operated company."

- Eli L.

"Very friendly & reasonable compared to similar experiences with plumbers on Peninsula."

- Susan B.
Why Choose Rooter Man Sonoma County?
What Makes Us Different
Local & Family-Owned

We make ourselves availabe so you'll always get a live person when you give us a call.

Full Service Plumber

We come equipped with fully stocked trucks, materials, and tools needed to get the job done right.

Offering 100% Free Quotes

Talk to our plumbing team today during a free estimate.

Next Day Services Available

Call after hours to get scheduled for the next day!

100% Satisfaction Guarantee

We never leave you unhappy! We guarantee it.