Santa Rosa Hydro Jetting Services
The plumbing industry is no exception in an era where technological advancements offer unparalleled solutions to traditional problems. One such revolutionary service is hydro jetting, a high-pressure drain cleaning technique. This advanced method ensures an immediate resolution to your draining issues and promises long-term results, preventing future blockages.
At Rooter Man Sonoma County, our licensed plumbers are experts in this cutting-edge technique. We understand the significance of a fully functional plumbing system and how even a minor blockage can disrupt your daily routine. That's why we offer top-notch hydro jetting services that ensure your drains remain clean and free flowing. We are committed to providing our customers quality service and peace of mind.
Don't wait until a minor clog escalates into a full-blown crisis. Contact us online or at (707) 659-0936 to schedule an appointment.
What Is Hydro Jetting?
Hydro jetting is an innovative and efficient method to clean and clear blocked sewer lines and drains. This process involves a high-pressure stream of water that blasts away stubborn blockages and accumulated debris, thoroughly cleaning your pipes.
This service is carried out using a specialized hydro jetting machine consisting of a water tank, a high-pressure hose, and a jetting nozzle. The machine generates a powerful stream of water that dislodges the blockage and scours the inner walls of the pipes, effectively removing grime, grease, and other build-ups.
During a hydro jetting service, our trained professionals will:
Evaluate your plumbing system to determine the severity of the blockage.
Insert a specialized hose and nozzle system into the drain lines.
Deliver high-pressure water to break down stubborn clogs and flush out the debris.
Inspect the cleanliness of the pipes post-service to ensure the complete removal of blockages.
Provide a detailed report of the service, helping you better understand your plumbing system's condition.
Benefits of Hydro Jetting
While traditional drain cleaning methods can provide temporary relief, they often fail to address the root cause of the issue. This is where hydro jetting comes into play. Not only does it provide immediate results, but it also offers several long-term benefits:
Effective Removal of Stubborn Blockages. From tree roots to heavy grease build-ups, hydro jetting can handle the toughest of clogs, restoring your drains to their original condition.
Preventive Maintenance. Regular hydro jetting services can help prevent future clogs, reducing the chances of emergency plumbing situations and prolonging the lifespan of your pipes.
Environmentally Friendly. Hydro jetting is a green solution that only uses water, making it an excellent choice for homes near bodies of water or those with septic systems.
Comprehensive Cleaning. Unlike traditional methods, hydro jetting offers a thorough cleaning of your pipes, removing build-up along the entire diameter of the pipe, not just at the blockage point.
Choose Rooter Man Sonoma County for Reliable Hydro Jetting Services
Regarding hydro jetting services in Santa Rosa, Petaluma, Windsor, and the surrounding areas, Rooter Man Sonoma County is your trusted partner. Our licensed experts are dedicated to providing you with high-quality, efficient services that ensure your plumbing system's optimal performance.
We believe in transparent communication and honest service. We will keep you informed throughout the hydro jetting process, ensuring you understand what's happening at every step. Our detailed reports post-service will also help you make informed decisions about your plumbing system's maintenance and care.
Moreover, our hydro jetting services can be tailored to fit your home's unique requirements. Our team can handle it all, whether it's a minor blockage or a significant drain issue. We take immense pride in delivering a service that meets and often exceeds our client's expectations.
If you're struggling with recurring drain issues or want to prevent future plumbing problems, consider hydro jetting. Contact us at (707) 659-0936 to schedule your service. Trust Rooter Man Sonoma County for efficient, reliable, and professional hydro jetting services.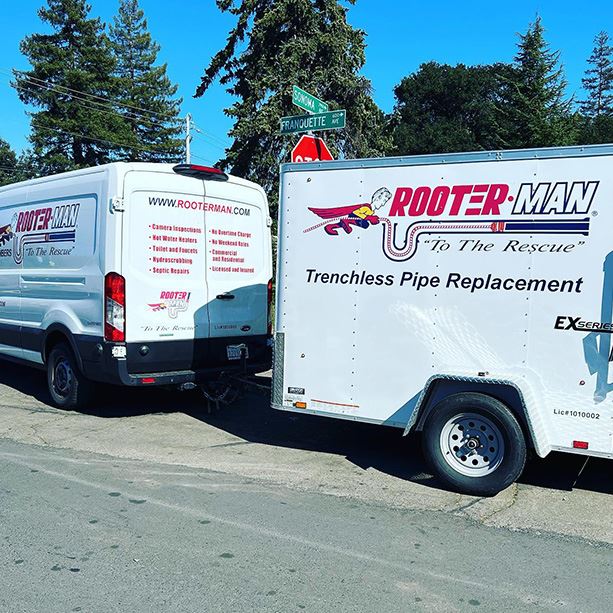 Hear From Our Happy Customers
"They show up on time, are professional, and they do the job right. This is my go-to plumbing company."

- Barbara G.

"Highly recommend this family-owned and operated company."

- Eli L.

"Very friendly & reasonable compared to similar experiences with plumbers on Peninsula."

- Susan B.
Why Choose Rooter Man Sonoma County?
What Makes Us Different
Local & Family-Owned

We make ourselves availabe so you'll always get a live person when you give us a call.

Full Service Plumber

We come equipped with fully stocked trucks, materials, and tools needed to get the job done right.

Offering 100% Free Quotes

Talk to our plumbing team today during a free estimate.

Next Day Services Available

Call after hours to get scheduled for the next day!

100% Satisfaction Guarantee

We never leave you unhappy! We guarantee it.