Emergency Commercial Plumbing
Emergency Plumbing in Santa Rosa
Fast & Reliable Plumbing Repair in Sonoma County
When plumbing emergencies strike in Santa Rosa, Rooter Man Sonoma County is your trusted partner for swift, reliable, and expert solutions. With over two decades of dedicated service, our licensed and insured technicians are ready to tackle any plumbing challenge, ensuring your home's safety and comfort.
If you are in need of plumbing services, give us a call at (707) 659-0936 or contact us online.
Our Emergency Plumbing Services
At Rooter Man Sonoma County, we understand the urgency of plumbing mishaps. Our comprehensive emergency plumbing services cover a wide range of issues, from sudden leaks and clogs to more complex problems. Here's what sets us apart:
Availability: Plumbing issues can happen at any hour. That's why we're available round-the-clock, ready to respond promptly to your call.
Rapid Response: Our experienced team takes pride in its quick response time. We arrive at your Santa Rosa home promptly, armed with the tools and knowledge needed to assess and resolve the situation.
Diagnosis and Repair: Whether it's a burst pipe, a malfunctioning water heater, or a sewer backup, our technicians are skilled at diagnosing the problem and executing effective repairs on the spot.
Common Emergency Plumbing Questions Answered
What steps should I take during a plumbing emergency before professionals arrive?
In the event of a plumbing emergency, follow these steps to mitigate damage:
Turn Off Water: Locate your home's main water shut-off valve and turn it off to stop water flow.
Electricity: If water is near electrical outlets or appliances, turn off the electricity at the breaker panel.
Contain Leaks: Place a bucket under leaks to collect water. Use towels or rags to absorb excess moisture.
How can I prevent plumbing emergencies in the future?
Prevention is key. Consider these preventive measures:
Regular Inspections: Schedule routine plumbing inspections to catch potential issues before they become emergencies.
Proper Disposal: Avoid flushing non-flushable items and pouring grease down drains.
Temperature Control: Maintain moderate water heater temperature to prevent scalding and tank damage.
Contact Rooter Man Sonoma County Today
Rooter Man Sonoma County is your go-to source for emergency plumbing services in Santa Rosa. Our skilled professionals are dedicated to restoring your peace of mind and the functionality of your home's plumbing.
Reach out to us at (707) 659-0936 or visit our contact page to schedule immediate assistance. Trust Rooter Man Sonoma County for all your plumbing needs.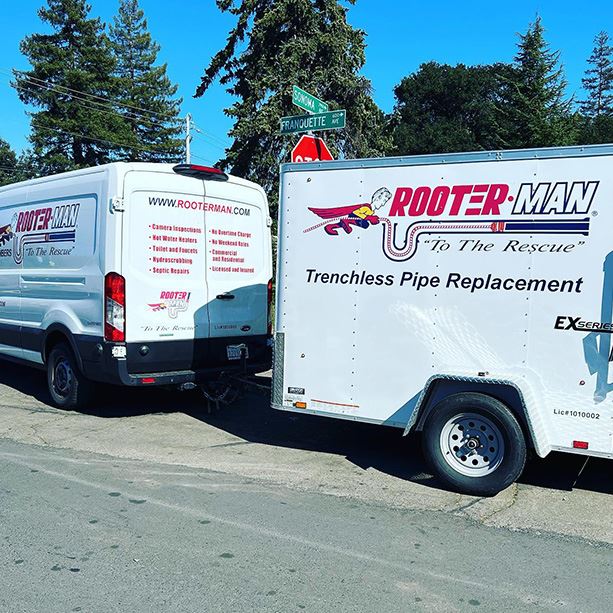 Hear From Our Happy Customers
"They show up on time, are professional, and they do the job right. This is my go-to plumbing company."

- Barbara G.

"Highly recommend this family-owned and operated company."

- Eli L.

"Very friendly & reasonable compared to similar experiences with plumbers on Peninsula."

- Susan B.
Why Choose Rooter Man Sonoma County?
What Makes Us Different
Local & Family-Owned

We make ourselves availabe so you'll always get a live person when you give us a call.

Full Service Plumber

We come equipped with fully stocked trucks, materials, and tools needed to get the job done right.

Offering 100% Free Quotes

Talk to our plumbing team today during a free estimate.

Next Day Services Available

Call after hours to get scheduled for the next day!

100% Satisfaction Guarantee

We never leave you unhappy! We guarantee it.