Trenchless Sewer Repair in Santa Rosa, CA
When you have a sewer line problem, you want to get it fixed as soon as possible. If you are dealing with a sewer line clog or other problem, you may be wondering if you need to have the sewer line dug up. With the help of a professional plumber, you can avoid having your sewer line dug up and replaced and avoid the cost and hassle of having your yard torn up.
Rooter Man Sonoma City has the experience and skill to quickly and effectively repair your sewer issue without digging a trench.
Call (707) 659-0936 to learn more about whether trenchless sewer repair is right for your property.
How Trenchless Sewer Technology Works
Trenchless sewer repair involves using a combination of tools and techniques to fix a sewer line without having to dig it up. There are a number of different methods that can be used, from using a camera to find the location of the blockage to using a hydro jet to clean out the pipe.
One of the most common methods used for trenchless sewer repair is pipe liner. Pipe liner is a flexible pipe that is inserted into the existing sewer pipe. The liner hardens, creating a new pipe within the old pipe. This allows the sewer line to continue functioning without having to replace the entire pipe.
Trenchless Sewer Repair in Petaluma, Windsor, and Surrounding Areas
The plumbers at Rooter Man Sonoma County are trained and experienced in trenchless sewer repair. We have the tools and techniques to get your sewer line fixed, without having to dig a hole in your yard.
Call us at (707) 659-0936 to schedule an appointment for trenchless sewer repair in Santa Rosa.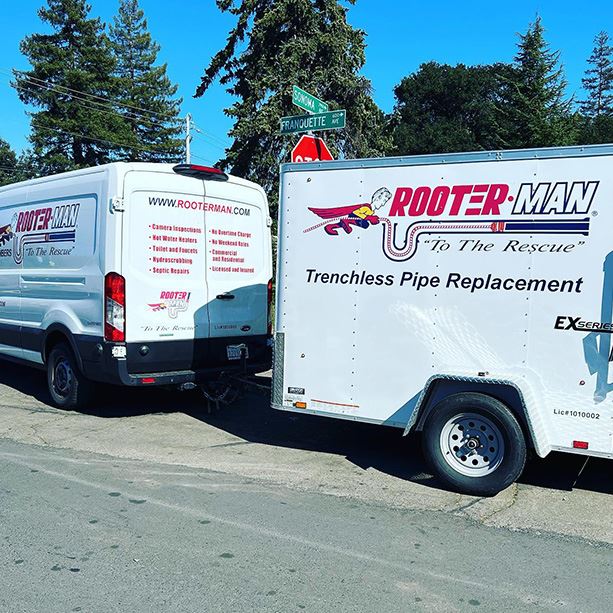 Hear From Our Happy Customers
"They show up on time, are professional, and they do the job right. This is my go-to plumbing company."

- Barbara G.

"Highly recommend this family-owned and operated company."

- Eli L.

"Very friendly & reasonable compared to similar experiences with plumbers on Peninsula."

- Susan B.
Why Choose Rooter Man Sonoma County?
What Makes Us Different
Local & Family-Owned

We make ourselves availabe so you'll always get a live person when you give us a call.

Full Service Plumber

We come equipped with fully stocked trucks, materials, and tools needed to get the job done right.

Offering 100% Free Quotes

Talk to our plumbing team today during a free estimate.

Next Day Services Available

Call after hours to get scheduled for the next day!

100% Satisfaction Guarantee

We never leave you unhappy! We guarantee it.