Santa Rosa Emergency Plumbing Services
Every homeowner's nightmare is a plumbing disaster - a burst pipe in the middle of the night, an overflowing toilet when you have guests, or a malfunctioning water heater in winter. These emergencies don't wait for your convenience; they demand immediate attention when they occur. For these times of crisis, you need a dependable emergency plumbing service you can trust.
Rooter Man Sonoma County understands plumbing emergencies' urgency and potential damage. They can cause extensive property damage, disrupt daily life, and lead to hazardous living conditions if not addressed promptly. That's why our team of certified, professional plumbers are available next day , with state-of-the-art tools and expert knowledge to tackle any plumbing emergency.
You get more than a quick fix when you call us for an emergency plumbing service. You're enlisting a team of trained professionals committed to resolving your issue completely, efficiently, and with minimal disruption to your routine. Whether a minor faucet leak causes water damage or a major pipe bursts flooding your home, we're prepared to handle it all.
Don't let a plumbing emergency wreak havoc on your peace of mind. Contact us immediately at (707) 659-0936 for fast, efficient, plumbing services. We're here for you when you need us most.
Your Emergency Is Our Priority
At Rooter Man Sonoma County, we don't just respond to your plumbing emergencies; we prioritize them. We are prepared to handle various emergency plumbing issues, ranging from minor leaks to complex sewer line backups. Our team is rigorously trained and certified to handle any plumbing emergency, ensuring your property is protected and your plumbing system is restored to optimal functioning.
Here's a glimpse of some common emergency plumbing issues we handle:
Leaking or burst pipes
Overflowing toilets
Sewer backups
Gas leaks
Water heater failures
Sump pump malfunctions
Regardless of the nature of your plumbing emergency, Rooter Man Sonoma County is committed to providing fast, effective, and reliable solutions. We aim to minimize damage, restore normalcy, and quickly ensure peace of mind.
Choose Rooter Man Sonoma County for Trustworthy and Efficient Emergency Plumbing Services
When a plumbing emergency strikes, the last thing you want is to worry about the reliability and quality of the service you call for help. With Rooter Man Sonoma County, you can rest easy. Our team of dedicated professionals is committed to providing top-notch emergency plumbing services to our valued customers in Santa Rosa, Petaluma, Windsor, and beyond.
Here are a few reasons why Rooter Man Sonoma County should be your first choice for emergency plumbing services:
Experience. With years of industry experience, we have seen and handled it all. No plumbing emergency is too big or too complex for us.
Expertise. Our team of certified plumbers has the knowledge and skills to tackle any emergency plumbing issue efficiently and effectively.
Availability. We understand that plumbing emergencies can happen at any time. We offer Next Day Services to ensure we're always there when you need us.
Customer Satisfaction. We're not satisfied until you are. We strive to exceed your expectations with every service we provide, ensuring your satisfaction.
Respect for Your Property. We treat your property as our own. We work diligently to minimize disruption and leave your home as clean as we found it.
Don't let a plumbing emergency throw your life into chaos. Contact us at (707) 659-0936 for prompt, reliable, and efficient emergency plumbing services. We're here to ensure your plumbing system is running smoothly, so you can get back to enjoying your home in comfort and peace.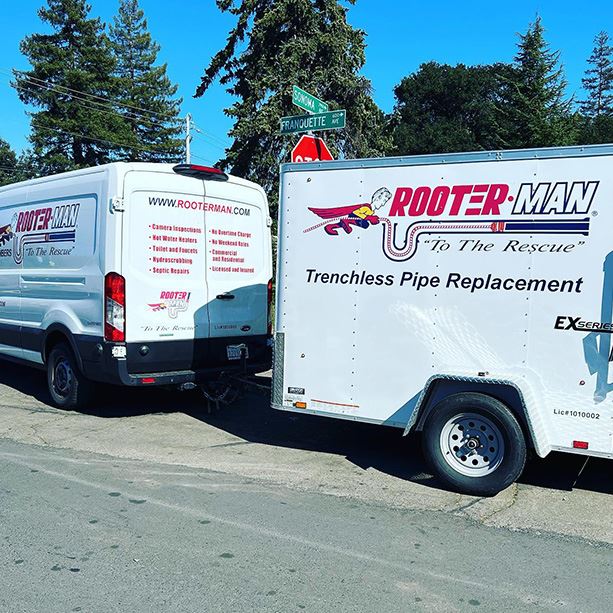 Hear From Our Happy Customers
"They show up on time, are professional, and they do the job right. This is my go-to plumbing company."

- Barbara G.

"Highly recommend this family-owned and operated company."

- Eli L.

"Very friendly & reasonable compared to similar experiences with plumbers on Peninsula."

- Susan B.
Why Choose Rooter Man Sonoma County?
What Makes Us Different
Local & Family-Owned

We make ourselves availabe so you'll always get a live person when you give us a call.

Full Service Plumber

We come equipped with fully stocked trucks, materials, and tools needed to get the job done right.

Offering 100% Free Quotes

Talk to our plumbing team today during a free estimate.

Next Day Services Available

Call after hours to get scheduled for the next day!

100% Satisfaction Guarantee

We never leave you unhappy! We guarantee it.